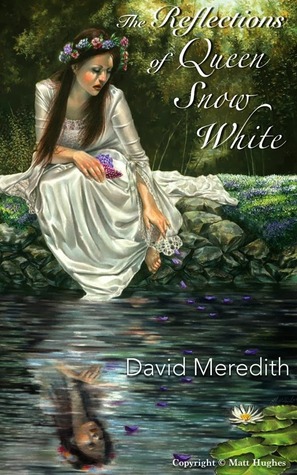 On the eve of her only daughter, Princess Raven's wedding, an aging Snow White finds it impossible to share in the joyous spirit of the occasion. The ceremony itself promises to be the most glamorous social event of the decade. Snow White's castle has been meticulously scrubbed, polished and opulently decorated for the celebration. It is already nearly bursting with jubilant guests and merry well-wishers. Prince Edel, Raven's fiancé, is a fine man from a neighboring kingdom and Snow White's own domain is prosperous and at peace. Things could not be better, in fact, except for one thing:
The king is dead.
The queen has been in a moribund state of hopeless depression for over a year with no end in sight. It is only when, in a fit of bitter despair, she seeks solitude in the vastness of her own sprawling castle and climbs a long disused and forgotten tower stair that she comes face to face with herself in the very same magic mirror used by her stepmother of old.
It promises her respite in its shimmering depths, but can Snow White trust a device that was so precious to a woman who sought to cause her such irreparable harm? Can she confront the demons of her own difficult past to discover a better future for herself and her family? And finally, can she release her soul-crushing grief and suffocating loneliness to once again discover what "happily ever after" really means?
Charming has been dead for a year and Queen Snow White still feels as if it were yesterday. In David Meredith's novel, The Reflections of Queen Snow White, a woman who has experienced so much pain has lost the hope that once bloomed inside of her. When she stumbles up the abandoned staircase of her deceased wicked step-mother, the Queen finds a mirror that helps her rediscover herself by showing Snow the life she lived and all she has overcome.
Readers get an in-depth look at what happens when happily ever after, seemingly, comes to an end. Snow White is plagued with feelings of loneliness and a bleak outlook on life. She struggles to accept that life goes on after her true love has died. Meredith writes Snow's character as a strong woman who has lost her faith, leaving her weak and isolated. Readers will connect with the fairy tale princess as her reflection is presented in new ways. Though, this is not a fairy tale for young readers. The situations that Snow White reflects upon vary between degrees of horrendous torture while others are of a more adult nature.
The novel is framed by Snow's discovery of the magical mirror and her daughter's wedding. The mirror takes the Queen, and readers, on a trip through the past, outlining her weaknesses and strengths. If Snow White can force herself to re-live the past, then perhaps she can find happiness once again. The Reflections of Queen Snow White tells an incredibly sad tale laced with brief shimmers of hope that leaves a resonating message with its readers.
Rating: 3/5 Cups