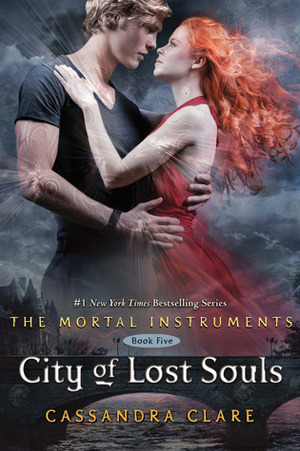 What price is too high to pay, even for love? When Jace and Clary meet again, Clary is horrified to discover that the demon Lilith's magic has bound her beloved Jace together with her evil brother Sebastian, and that Jace has become a servant of evil. The Clave is out to destroy Sebastian, but there is no way to harm one boy without destroying the other. As Alec, Magnus, Simon, and Isabelle wheedle and bargain with Seelies, demons, and the merciless Iron Sisters to try to save Jace, Clary plays a dangerous game of her own. The price of losing is not just her own life, but Jace's soul. She's willing to do anything for Jace, but can she still trust him? Or is he truly lost?
The world isn't safe from Valentine's legacy as his son, Jonathan, carries on the evil instilled within him from infancy in The City of Lost Souls by Cassandra Clare. As Jonathan begins carrying out his own plan to destroy Shadowhunters, Clary must figure out how to stop him. Though it isn't easy when Jonathan and Jace are connected. When the fourth book ended, Lilith had just perfomed a ceremony to link the two boys. Now, one cannot be cut without the other bleeding.
With Jace in trouble, Clary, Simon, Alec, Magnus, and Isabelle are determined to find a way to sever the link between him and Jonathan. Clare does a fantastic job balancing all of the characters, giving readers an in-depth look at each of them. Clary is more reckless than ever, sacrificing her safety by pretending to align with her evil brother, defining her loyalty and love for Jace. Simon, once again, stands out by demonstrating his courage and bravery when he calls upon the Angel Raziel to ask for help in saving Jace.
Alec, the play-by-the-book boy, surprises readers with his dark intentions where Magnus is concerned. Readers get to see a new side of Alec, a side where all options are considered when it comes to love and immortality. Though, his uncertainty and unsure nature are still the foundation for his connection with readers. More about Magnus is revealed in this Mortal Instruments installment but it seems with answers, more questions appear. Wondering if the parental history of Magnus will play a part in the final book.
Isabelle has always been a favorite character of mine in this series. She's a tough, no nonsense Shadowhunter who never backs down from a demon fight. Throughout the entire series, Isabelle has slowly opened up and shown her friendly side. This book is no exception. Readers get an even deeper look into Isabelle as she finally fesses up to her feelings for Simon, letting her hopes and fears be known.
The plot of The City of Lost Souls begins with the search for Jace and Jonathan (aka Sebastian). When the possessed Jace comes back for Clary, she sees that this is her chance to uncover Jonathan's plans and save Jace in the process. While she's doing the undercover work, Simon, Alec, Isabelle, and Magnus search for a way to separate Jace and Jonathan so that they can kill Jonathan for good and save the Shadowhunting world. Though the story line is very similar to the fourth book (Jace possessed and the group trying to save him) and the first three books (evil Valentine family member trying to destroy the earth), I wasn't disappointed.
Rating: 4/5 Cups