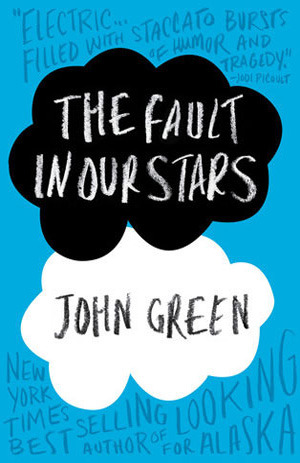 Despite the tumor-shrinking medical miracle that has bought her a few years, Hazel has never been anything but terminal, her final chapter inscribed upon diagnosis. But when a gorgeous plot twist named Augustus Waters suddenly appears at Cancer Kid Support Group, Hazel's story is about to be completely rewritten.
John Green writes a horribly wonderful story about life, love, and cancer, with disappointment and reality on the side, in his novel, The Fault in Our Stars. Hazel's parents believe that she is depressed and they force her to go to group therapy sessions. She completely hates group therapy until Augustus Waters shows up, an osteosarcoma survivor. Thinking that Hazel looks just like Natalie Portman in V for Vendetta, he invites her to watch her doppelganger movie. And thus, the story of faulty fated love begins.
Hazel is the girl I'd imagine a friend with terminal cancer to act like. She's blunt, witty, honest, intelligent, demanding, and full of spirit. What she shares with her readers is edgy and open, a diary spray-painted on downtown buildings. The connection readers feel with Hazel beings with sympathy. As she describes her illness and the waves of honesty swell and crash upon the reader, that sympathy turns to understanding and, in eventually, empathy. With Hazel's blunt force trauma of words, readers get it. They can grasp what they may have never experienced. Throughout the novel, which is just over 300 pages, readers see all sides of living with illness. There are situational examples of fear, hope, love, joy, depression, jealousy, despair, surprise, and preparation.
The Fault in Our Stars focuses on Hazel and Augustus, depicting how they help each other to live a forever in a limited infinite. When Hazel shares her favorite book with Augustus, he has the same reaction she does: how can an author write a book without an ending? Luckily, Augustus has saved his wish so the two teens can fly to Amsterdam, where the author lives, and ask him what exactly happened to the characters after the last sentence was cut off and the story ended.
The Fault in Our Stars was a miracle of misery, it had me laughing out loud and quietly crying in a subsequent nature. The only, dare I say, problem I had with the novel was the dialogue. I felt like the terminology and use of the English language was too old for Hazel and Augustus. Certainly not very often, but a few times, I had trouble imagining that a girl of sixteen, or a boy of seventeen, would have such advanced conversations. But, now that I've said that, I loved the way they spoke. I wish everyone spoke with such honesty and a highly developed vocabulary. It helped the quotes from T.S. Eliot et al fit right in.
Rating: 4.5/5 Cups