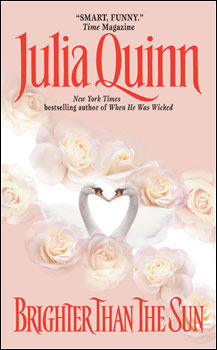 Charles Wycombe, the dashing - if incorrigible - Earl of Billington, needs a bride before his upcoming 30th birthday, if he hopes to earn his inheritance. The vicar′s vivacious, determined daughter, Miss Eleanor Lyndon, needs a new home, since her father′s insufferable fiancee is making her old one intolerable. Destiny has brought Charles and Ellie together - though their match at the outset appears to have been made somewhere rather hotter than heaven.
Julia Quinn writes a convenient marriage in her novel, Brighter Than the Sun. I came across this book in my favorite used book store in Missouri while on vacation and couldn't believe I had discovered something published in 1997 by Quinn that I hadn't read yet. My friend and I both bought copies and read them the next day. And I must admit, this was the only Quinn book I've read that I didn't enjoy immensely. (It is Julia Quinn, so I of course enjoyed it a little bit.)
Ellie and Charles are the main characters of this humorous historical romance. Ellie is about to be forced into servitude by her own future step-mother while Charles is on the verge of losing all of his money if he doesn't marry by his thirtieth birthday - which is a mere fifteen days away. Together they escape tragedy by agreeing to marry, but then they start to actually like each other and then things get a little tricky.
Charles is a devilish rake who enjoys alcohol, sweets, and teasing Ellie until she blushes. Ellie is a sharp witted woman who isn't afraid to bite. Together they make a wonderful pair bringing laughter and happiness to the reader. At this point, I know you're wondering what made this book so disappointing. And now, I'll tell you.
The plot.
For such an outstanding writer as Julia Quinn, the plot seemed phony and thrown together. Hodgepodge. First we have the motivation for marriage - perfect. Then Quinn presents humorous situations that force the couple to develop deeper feelings of caring and concern. But wait, there's someone out to get Ellie? She just moved to the estate, how could someone be set on planning her demise already? This revelation is followed by a string of bad situations. Poor Ellie. This does allow readers to connect with the character, as they see her being mistreated readers will instantly form a sympathetic bond. But then, out of seemingly nowhere, Charles' life is in danger. Didn't enough horrible things happen to them already? Do they have to be kidnapped, roughed-up, and mortally threatened? Perhaps, but the myriad of mishaps for the couple are already so high, the plot and the ending are unbelievable. However, I will never give up on Julia Quinn and her amazing ability to spin a spectacular plot as there have been too many wonderful books that outweigh this one.
Rating:1.5/5 Cups