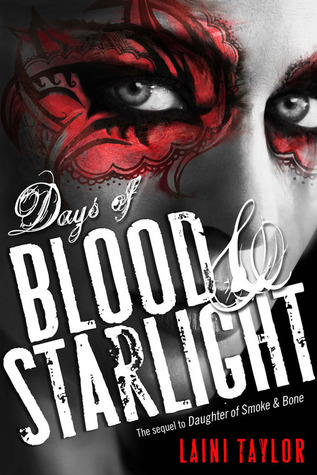 Once upon a time, an angel and a devil fell in love and dared to imagine a world free of bloodshed and war.
This is not that world.
Art student and monster's apprentice Karou finally has the answers she has always sought. She knows who she is—and what she is. But with this knowledge comes another truth she would give anything to undo: She loved the enemy and he betrayed her, and a world suffered for it.
In this stunning sequel to the highly acclaimed Daughter of Smoke & Bone, Karou must decide how far she'll go to avenge her people. Filled with heartbreak and beauty, secrets and impossible choices, Days of Blood & Starlight finds Karou and Akiva on opposing sides as an age-old war stirs back to life.
While Karou and her allies build a monstrous army in a land of dust and starlight, Akiva wages a different sort of battle: a battle for redemption. For hope.
But can any hope be salvaged from the ashes of their broken dream?
Laini Taylor sweeps readers right back into the fantastical world of Angels and Chimera in Days of Blood & Starlight, the sequel to Daughter of Smoke & Bone. After leaving Akiva behind, Karou uses Razgut to take her into Eretz but what she finds is destruction and chaos. Akiva enters his homeland unsure of what to expect: did his brother and sister keep his secret or will he be killed on sight upon passing through the portal. Both characters struggle to find a starting point while the world is being slaughtered around them.
Karou is found roaming the burned city of Loramendi by Thiago, the last Chimera she would have wished survival upon. And now she's stealing teeth from museums around the world. Because Brimstone only taught resurrection to one other person and that was Karou. So no matter how much the Chimera may hate her based on deeds of a past life, she is a necessity. She can bring back the ones that were killed from the souls that were saved, building them a new body.
In this novel, readers get a few glimpses of what Karou was like when she was Madrigal. The strength, the confidence. Though overall, readers experience the pain and uncertainty that Karou's life becomes. The girl who was so adamant about reuniting with her Chimera family has returned to nothing but disappointment and resurrection based servitude. The connection she already has with readers will grow as they witness the hardened war-stricken world that Karou must face.
Akiva, the angel with a broken heart, knows that Karou couldn't possibly forgive him after the role he played in Brimstone's death and the war against her people. No matter if it was out of vengeance, hurt, or heart-brokenness. But that doesn't mean his hope for the world can't continue. Readers, after briefly loving him in Daughter of Smoke & Bone and then subsequently hating him after his actions were revealed, get to know Akiva much better in this book. And the love for him returns. Though perhaps not as strong as it was before.
Readers learn more about Akiva's past, his relationship with his brother and sister, and, most importantly, about the kind of man Akiva is. Unsurprisingly, he's a really good one. He's brave, intelligent, creative, forgiving, loyal, and has a fresh outlook on the what the world could become. Sharing the novel's point of view with Akiva binds readers to him as he fights for the forgiveness he may never earn.
The plot of this series installment follows Karou and Akiva as they struggle with their hope to change the world. Karou works as a Resurrectionist for the despicable Thiago, creating new Chimera bodies complete with wings. Akiva works within his battalion to warn the few Chimera groups that remain in Eretz of the angels so that they have a chance to survive.
But bigger things are boiling just below the surface. Why does Thiago need more and more new soldiers? Is revenge or rescue his top objective for this after-war? And now the Seraphim emperor plans on creating a new war with a rebel group of Angels. Will he ever stop shedding blood? Or will someone have to spill his in order to save the innocents? Days of Blood & Starlight is a nonstop surprising sequel with more of the poetic prose that Taylor revels in. The characters are wonderfully relatable, with scars and bruises, flaws and virtues, even though they're from a different world. Breathtaking, beautiful continuation that will make readers wish to get lost in the words.
Rating: 4.5/5 Cups