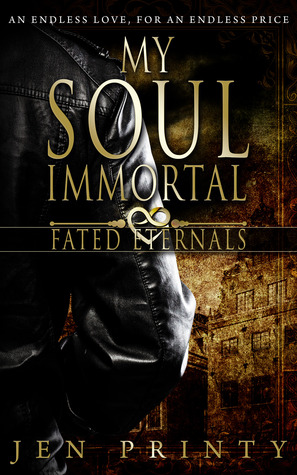 An endless love, for an endless price.
Jack's immortality is exposed when he prevents a liquor store heist, forcing him to flee to protect his secret—a secret not even he understands. But when he meets Leah Winters—a mirror image of his decades-lost love, Lydia—his very soul is laid bare. He begins to question his sanity. Is she real, and if so, what does that mean for Jack and his secret?
Jack's not the only mystery man in town. A stranger named Artagan hints at knowledge Jack is desperate to possess. But can he trust Artagan, or does the dark newcomer harbor deadly secrets of his own?
As Jack's bond with Leah grows, so does the danger to her life. Jack must discover just how much he is willing to risk in order to save the woman he already lost once.
Jen Printy shares a story of love that has survived one hundred and fifty years of separation in her novel, My Soul Immortal. This is the first book in the Fated Eternals series and based on the first installment, I don't think readers will be disappointed.
Jack is the main character of the novel and the story is told from his perspective. He's an immortal. The only reason he knows that is because he's tried multiple times over the years to end his turmoil. After his fiancee, Lydia, died, Jack struggled with depression and despair. At the beginning of the novel, readers witness the hopeless, weary, downtrodden Jack. Allowing readers to see this puts his transformation into stark contrast. When he travels to Maine and meets Leah - Lydia's memory personified - he begins to change. Jack evolves into a caring, loving man. Though he can be a little overbearing at time, readers will enjoy the love story.
The novel begins with Jack escaping L.A. and moving to Maine. After his arrival, Jack takes a job a bookstore and literally stumbles into Leah. He doesn't understand why she looks exactly like his Lydia, but he's determined to find out. After he is able to make the connections, he makes a fatal mistake. An unlikely immortal witnesses Jack walking in on a robbery and her morbid interest is piqued. Her sights settle on Jack and she'll do anything in her power to bring him suffering because, sadly, that's just how she is. Now Jack must protect Leah, and the only way he can really do that is if he tells her the truth about what he is and what she is.
The writing style, the pace, and plot action were all properly executed to make this book a great piece of paranormal fiction. I greatly enjoyed reading it and I think the character/reader connection will only grow with further installments of the series. I highly recommend it for mature young adult and paranormal fans as the language is a little sharp at times.
Rating: 3.5/5 Cups