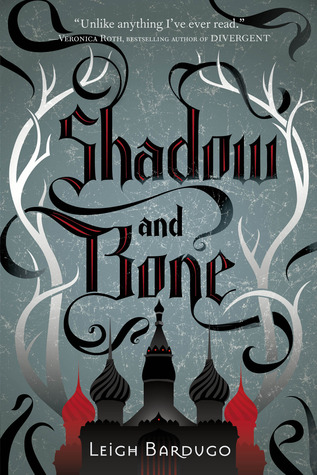 Surrounded by enemies, the once-great nation of Ravka has been torn in two by the Shadow Fold, a swath of near impenetrable darkness crawling with monsters who feast on human flesh. Now its fate may rest on the shoulders of one lonely refugee.
Alina Starkov has never been good at anything. But when her regiment is attacked on the Fold and her best friend is brutally injured, Alina reveals a dormant power that saves his life—a power that could be the key to setting her war-ravaged country free. Wrenched from everything she knows, Alina is whisked away to the royal court to be trained as a member of the Grisha, the magical elite led by the mysterious Darkling.
Yet nothing in this lavish world is what it seems. With darkness looming and an entire kingdom depending on her untamed power, Alina will have to confront the secrets of the Grisha . . . and the secrets of her heart.
Leigh Bardugo delivers in the first installment of The Grisha series, Shadow and Bone. I know I'm a little late in reading it, but I never dreamed it would be this fantastic. With every detail, readers are pulled into a world that is divided by darkness and promised the sun.
Alina grew up as an orphan at an estate with her best friend Mal. She's a quirky, lonely, isolated, military mapmaker in love with Mal, who doesn't seem to even see her. Until everything changes. Suddenly, a power that she's been unconsciously holding back rips loose and the world is filled with hope. Alina is still the outsider but she discovers a place in the world where she could fit. Readers will love her sarcastic nature while connecting with her uncertainties, worries, and fears. What if she isn't good enough? What if she fails? These questions are universally relatable, creating an instant bond with Alina that only grows stronger as she hones her power and lets herself dream.
The plot of the novel begins with Alina and her military regiment preparing to cross the Shadow Fold. During which, the group is attacked by volcra and Mal is badly injured. Frightened for her life, Alina somehow summons the sun to extinguish the darkness and save them. After barely surviving, the Darkling, leader and most powerful of the Grisha, comes for Alina. With her help, they can save the world. I absolutely loved the entire story line. It was an adventurous ride from start to finish with a couple surprises that I did not see coming. Between the chaos and preparation, readers get to see Alina discover her inner strength, be hurt by love, and succeed in carving out a place for herself in the war-torn world. Although, that place isn't exactly the safest place to be.
Rating: 5/5 Cups