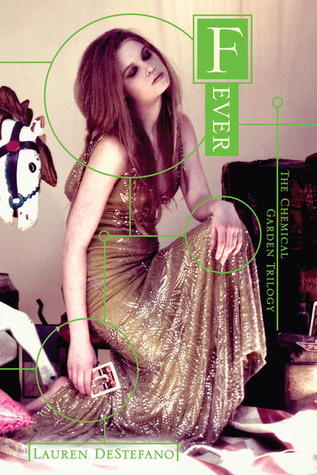 Running away brings Rhine and Gabriel right into a trap, in the form of a twisted carnival whose ringmistress keeps watch over a menagerie of girls. Just as Rhine uncovers what plans await her, her fortune turns again. With Gabriel at her side, Rhine travels through an environment as grim as the one she left a year ago - surroundings that mirror her own feelings of fear and hopelessness.
The two are determined to get to Manhattan, to relative safety with Rhine's twin brother, Rowan. But the road there is long and perilous - and in a world where young women only live to age twenty and young men die at twenty-five, time is precious. Worse still, they can't seem to elude Rhine's father-in-law, Vaughn, who is determined to bring Rhine back to the mansion...by any means necessary.
In the sequel to Lauren DeStefano's harrowing
Wither
, Rhine must decide if freedom is worth the price - now that she has more to lose than ever.
Lauren DeStefano continues The Chemical Garden series with book two, Fever. The stakes, and temperatures, are high as Gabriel and Rhine travel from Florida to Manhattan. The fever comes in waves of hallucinations, nightmares, and lost time. Rhine struggles to hold herself together, determined to make it back to her brother, Rowan.
After the end of the first book, readers had a pretty strong connection with Rhine. In a world full of fear and misery, experiments and death, it's hard to find someone worth trusting. To the readers, Rhine and Gabriel are the only characters that can be trusted. In the first half of Fever, the connection with Rhine begins to slip. When she's captured by a paranoid elderly woman who forces young girls into prostitution, Rhine becomes darker. She begins to lose herself to the smoke and mirrors, therefore causing readers to distance themselves from her. Though after the escape, the bond will slowly be rebuilt. Through Gabriel's sickness and the unexpected adoption of a seven-year-old girl, Rhine shows her loyalty and caring nature once again.
The plot of the Fever follows Gabriel and Rhine after they've successfully navigated the boat to South Carolina. Unsure where to go, they stumble upon a carnival which turns out to be a prostitution ring. Held prisoner by guns, drugs, and electric fences Gabriel and Rhine attempt to create a plan. Eventually they do escape, but with a few mishaps. After stealing money, they purchase bus tickets and make their way to Manhattan where everything seems to fall apart, or fall into its correct place. Whichever way you would like to look at it.
The first half of the book wasn't very enjoyable to me. But perhaps that was the point? I wanted Rhine and Gabriel to get out of there as soon as possible. My skin was crawling from the descriptions. The second half of the book was surprising. Information was discovered that was both creepy and heartbreaking. But even in the darkest place, there is a ray of hope. And that single beam of light will keep me reading into the third one. As quickly as possible.
Rating: 3/5 Cups