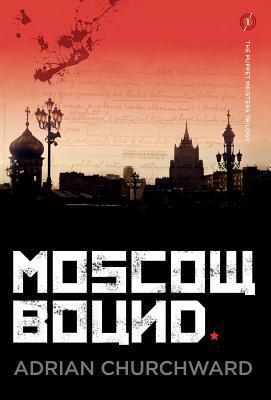 Ekaterina Romanova, the estranged wife of Russia's wealthiest oligarch Konstantin Gravchenko, asks Scott Mitchell, an idealistic young English human rights lawyer who is being intimidated by the authorities, to find the father she's never met. She believes he's been languishing for decades without trial in the Gulag system.
Meanwhile, General Pravda of military intelligence, though an advocate of transparency, is determined to protect a covert operation that he's been running for years. General Pravda hinders Ekaterina and Scott at every turn and lawyer and client are forced to go on the run for a murder they didn't commit.
As they descend into the Hades that is the world of international realpolitik Scott is compelled to reconsider his own values, and Pravda's life's work disintegrates, when Scott uncovers a 50 year-old Cold War secret, which both the Russian and US governments are still trying to hide from the public domain. 'Moscow Bound' is the first book in The Puppet Meisters trilogy, dealing with state abuse of power.
The Russian Government has a secret that dates back to the Vietnam War. When Ekaterina's mother dies, she doesn't expect the news that her father is still alive. Somehow the two are connected. But neither she nor Scott Mitchell expect the lengths that the Russian Government will go to in order to keep their secret in Moscow Bound by Adrian Churchward.
Scott Mitchell is the main character of Moscow Bound. He's a British human rights lawyer who lives in Moscow and is currently disliked by many of his fellow countrymen. Scott lives the law. He respects the legal system, uses it to his advantage, and readily points out when the law is not being upheld. Readers will respect Scott for his views and ambitions. He fights for the victim, especially when they can't fight for themselves. He's a very intelligent character with an open heart. Though, his inexperience in working with untrustworthy government employees and bad guys is obvious. Way too trusting.
The plot of Moscow Bound quickly introduces how Scott's previous case has caused unrest with the opinion of him in Russian minds. But no doubt, this popularity catches Ekaterina's attention. She's beginning a search for her father who has been held by the Russian Government without trial for thirty years and needs the help of Mr. Mitchell. Does it get any more human rights than that? Readers will like Ekaterina though she is secretive, seemingly untrustworthy, and bizarre. Regardless I think a connection will still be made through sympathy and understanding. When Scott takes the case, things escalate quickly. Churchward pulls readers into the disastrous situation without pausing to take a breath. If the characters don't keep the audience engaged, the bombings, murders, and kidnappings will.
Rating: 3/5 Cups