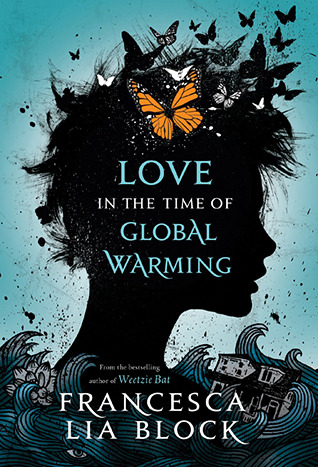 Her life by the sea in ruins, Pen has lost everything in the Earth Shaker that all but destroyed the city of Los Angeles. She sets out into the wasteland to search for her family, her journey guided by a tattered copy of Homer's Odyssey. Soon she begins to realize her own abilities and strength as she faces false promises of safety, the cloned giants who feast on humans, and a madman who wishes her dead. On her voyage, Pen learns to tell stories that reflect her strange visions, while she and her fellow survivors navigate the dangers that lie in wait. In her signature style, Francesca Lia Block has created a world that is beautiful in its destruction and as frightening as it is lovely. At the helm is Pen, a strong heroine who holds hope and love in her hands and refuses to be defeated.
With The Odyssey as a guide, Francesca Lia Block sends Penelope on a journey through post-apocalyptic California and Nevada in an attempt to save her family in the novel, Love in the Time of Global Warming. Creepy, chaotic, and full of casualties, this book turns cellular cloning into a nightmare.
Penelope, aka Pen, is a teenage girl who lives in a pink house by the sea with her father, mother, and little brother. When the end arrives, somehow she survives inside the house but her family is gone. Pen knows that she must do everything she can to find them. Readers will enjoy Pen's character. She's strong, brave, and especially loyal. Though Pen does allow herself to be tripped up at times, this makes her easy to relate to. She recognizes her fears and tries to overcome them. Readers will relate to both her internal and external struggles whether through empathy or understanding.
Love in the Time of Global Warming begins before the story. Kronen, a scientist, alters genes and gathers cellular data which leads to the creation of monsters bigger than the earth can handle. The earth shakes in retribution. Between the quake itself and the tsunamis that are caused by it, the world as we know it disappears into an apocalyptic scene. Following the storyline of The Odyssey, Pen embarks on a journey to find her family, hoping that they're alive. With Block's detailed and analogy-rich writing style, coupled with characters that are both real and unbelievable, readers will certainly be entertained.
Rating: 3.5/5 Cups