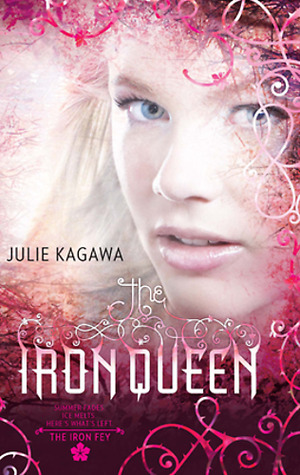 My name is Meghan Chase.
I thought it was over. That my time with the fey, the impossible choices I had to make, the sacrifices of those I loved, was behind me. But a storm is approaching, an army of Iron fey that will drag me back, kicking and screaming. Drag me away from the banished prince who's sworn to stand by my side. Drag me into the core of conflict so powerful, I'm not sure anyone can survive it.
This time, there will be no turning back.
With the third book in The Iron Fey series, The Iron Queen, many things change for Miss Meghan Chase, Prince Ash, and Puck. Julie Kagawa writes without boundaries or character favoritism. Faery is in dire need of a heroine and Meghan just happens to fit the bill.
Readers have witnessed Meghan grow from a clueless human child to a Summer Fey Princess. Readers have witnessed her strong caring heart, her fierce loyalty, and her ability to succeed where others have failed. This series installment is no different. She has saved her brother, her father, and now she must save all of Faery. No pressure right?
Even though she was exiled in book two, Meghan is brought back to Faery with the promise that if she succeeds, the exile will be lifted for her, Puck, and Ash. To succeed she must kill the False Iron King and stop the destruction of the NeverNever. Readers will see the blooming hope that comes with this chance. With one look at Puck and Ash, how can she say no? As a plan is formed, readers will begin to believe in Meghan. She becomes a fighter, a leader, in this novel. With the firm bond between reader and Meghan in place, readers will grow to respect Meghan with each written word. She looks at the bigger picture and refuses to be selfish. Even though the odds are stacked against her, Meghan pushes on in hopes of trying to save the ones she loves, and all of Faery along with them.
The plot of The Iron Queen is wonderfully twisty and full of secret allies. The story begins with Meghan being offered a deal from the rulers of Faery: if she kills the False Iron King then she, Ash, and Puck can return to Faery. Of course they jump at the chance. (Well, not exactly jump because the Iron Kingdom is deadly to Puck and Ash but they kind of, sort of take care of that problem.) Anyway, the three allies travel back to Faery and make a deal with Oberon. And then the adventure begins. Meghan lets the Iron Glamour she feels pull her toward the false king, but there are those that want to stop her. Those that think that the False King will steal her powers and become the strongest Iron Fey in history. But Machina, the last Iron King, won't let that happen. If only Meghan would let him help her.
Rating: 4/5 Cups