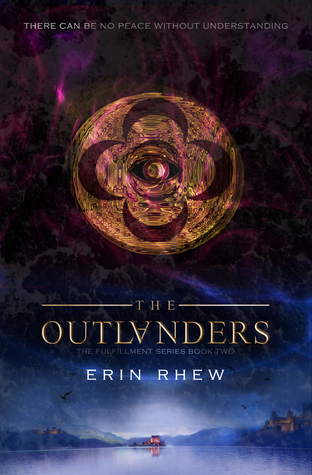 With King Jesper dead and Prince Wilhelm mortally wounded, Halfling prince, Nash, and the Fulfilment, Layla, assume the throne of Etherea. They must contend with a new Prophecy Candidate who asserts her position, and Layla is surprised to find her fate intertwined with this challenger. Facing a myriad of choices, Nash and Layla's decisions affect not only their own futures but that of two kingdoms.
Unbeknownst to the Ethereals or the Vanguards, a slumbering menace stirs in the south, awakened after centuries of slumber. The mysterious Outlanders, a force shadowed in mystery, sit poised to tip the balance of power, sending ripples of fear throughout both warring kingdoms.
Elder Werrick proved a formidable foe, but Layla may yet meet her match in the monstrous Outlander queen. This mistress of the dark's plans, rooted in revenge and ancient lore, now threaten the livelihood of all three kingdoms.
Racing against time, Layla travels to the Borderlands—home of the Voltons and Ecclesiastics—to discover as much as she can about the war, the First Ones, and the prophecy itself. Lives teeter in the balance, kingdoms sit on the cusp of ruin, and a beast, greater than any she's ever faced before, plots a catastrophic attack.
Erin Rhew continues her mesmerizing tale of a prophecy's future for three separate kingdoms in her novel, The Outlanders. This sequel to The Prophecy begins just after Prince Wil was hurt in the final battle. Though this book doesn't sport much battlefield action, readers will be on edge as they hope for everyone's survival.
Layla, Wil, and Nash are all considered main characters again. Layla struggles to decipher her feelings for the half-brothers. She's stays loyal to Wil, sitting by his side as he tries to recover from a life threatening wound. Readers will appreciate her strength in troubling times. Layla is a trustworthy character and has the ability to weed out others who are untrustworthy. She's a caring character who will reach out to the empathetic side of readers.
Wil fights for his life throughout most of this novel. Readers know that the Prince of Etherea is a compassionate man, as well as ruler. The goodness of Wil touches readers, bringing their hope for his survival to the surface. His feelings for Layla are true and completely selfless, helping readers relate to the Prince.
Nash plays a large role in this novel, but the setting for his involvement is the Outlands as he's held prisoner for quite some time. His strength and focus are impressive, but readers will see him slowly breaking down as he waits for either release, rescue, or death. Nash's situation plays a big role on how readers feel toward his character. Sympathy and fear for him will weigh heavily on the minds of readers.
The plot is engaging as the future of both the Vanguard and Etherea kingdoms are at stake. Though the first book gave readers more action, the conflict in this novel is more mental and mortal. Both lives and futures are on the line. I have to admit I did find myself skimming the chapters that didn't involve the three main characters. I'm not proud of this fact, but my focus was definitely on the characters I cared the most about. I did absolutely love the surprise twist at the end. I was wondering if we'd ever learn about Layla's real family... and we do! I had a feeling that her father had made an appearance already and readers will be happy with his reveal. Even though we'll all have to wait until book three for a reunion... if everyone survives to see it.
Rating: 3.5/5 Cups