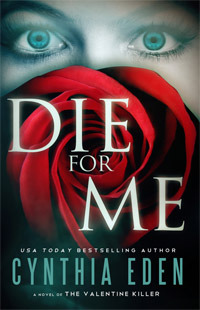 Katherine Cole thought her fiance was the perfect man until he turned out to be the perfect killer. He left his victims stabbed through the heart holding a telltale single red rose and was deemed the Valentine Killer. Three years ago he vanished. Now he's back. And he's hunting the one who got away. In New Orleans, Katherine dared to hope she was finally safe, yet somehow he found her. This time, Katherine won't just sit silently by; she'll do anything to stop the monster she once loved, even trust the sexy cop promising to keep her safe?
Detective Dane Black never lets his emotions interfere with the job, even as the Valentine Killer surfaces in New Orleans to stalk his prey. But when Dane agrees to protect the killer's ex-fiance, he can't ignore the passion kindling between them. After a single unforgettable night binds them body and soul, Dane won't rest until Katherine is safe in his arms and the Valentine Killer is dead.
Mystery. Romance. Murder. Die For Me by Cynthia Eden is an exhilarating hunt through the streets of New Orleans for a killer who vanished three years prior. I was hanging on to Eden's every word as the plot became as murky as a Louisiana swamp.
Katherine and Dane are the two main characters in this novel. Though when the Valentine killer enters the picture, the story becomes a trifecta of fear, love, and survival. Katherine is an unbelievably strong woman. She dated, and was engaged to, a serial killer. She entered the witness protection program and tried to start a new life, but always looking over her shoulder is not the kind of life Katherine wants. Readers will enjoy Katherine and understand why she has become who she is. Afraid to live, afraid to love. Readers will commend her on her fighting attitude. She's ready to take a stand and take her life back. Of course, Katherine could use some help. Perhaps in the form of a sexy police detective named Dane Black.
Readers will completely love Detective Dane Black. Eden definitely knows how to write a delicious romance and her descriptions of Dane are hard to resist. He's a good cop with a few ghosts in his past. Dane is protective, strong, honest, and intelligent. Readers will come to trust him during the novel and the investigation within. There's something about a fictional man in uniform who vows to take down the bad guy.
The plot of Die For Me was exceptionally intriguing. One twist, I saw coming quite early. But lucky for me and all readers, there is more than just one surprise. Eden keeps things moving at a nice pace with a new clue or another body ready to be discovered. Her writing style was enjoyable and a perfect fit for the novel. At first I thought the idea of a Valentine killer would be a little bit cliche/corny and annoying but Eden pulls it off quite nicely.
Rating: 3/5 Cups