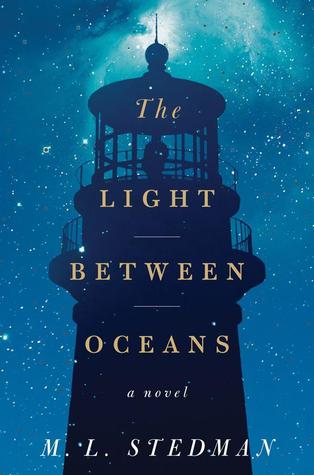 After four harrowing years on the Western Front, Tom Sherbourne returns to Australia and takes a job as the lighthouse keeper on Janus Rock, nearly half a day's journey from the coast. To this isolated island, where the supply boat comes once a season and shore leaves are granted every other year at best, Tom brings a young, bold, and loving wife, Isabel. Years later, after two miscarriages and one stillbirth, the grieving Isabel hears a baby's cries on the wind. A boat has washed up onshore carrying a dead man and a living baby.
Tom, whose records as a lighthouse keeper are meticulous and whose moral principles have withstood a horrific war, wants to report the man and infant immediately. But Isabel has taken the tiny baby to her breast. Against Tom's judgment, they claim her as their own and name her Lucy. When she is two, Tom and Isabel return to the mainland and are reminded that there are other people in the world. Their choice has devastated one of them.
M.L. Stedman shares an astounding story of choice and consequence with her novel, The Light Between Oceans. Tom, a man who death failed to claim during the war, and Isabel, a shooting star of passion, interest, and love, share a life that is eroding into despair. Their happiness, once full of laughter and hope, has been discovered as a limited resource. But with someone else's misfortune, comes their turn at a saving grace.
Tom is an upstanding man. He was a dedicated soldier who narrowly escaped the war physically unscathed. Though the violence and loss have changed him, Tom remains a moral man. Readers will connect with him early in the book as they witness him save a young woman from a drunken assault. That combined with his military history, Tom becomes the image of a hero. He's also a quiet man who lives within the rules. He enjoys the stars and running the lighthouse so he can keep others safe in their travels.
Isabel is first introduced, very briefly, in the prologue. When she is formally introduced later on in the novel, Isabel is a burst of delight, witticism, and happiness. Readers will connect with Isabel and Tom as they quickly fall in love. After all of the darkness Tom journeyed through, a shining light like Isabel is just what he needs. But things change in a blink, especially when heartbreak comes from losing their unborn children.
Readers watch as Tom and Isabel shift from happiness to despair, delusion, and regret. The writing style of M.L. Stedman is powerful in that it brings the reader into the character's emotions with truth and honesty, laying the facts down beside the feelings, allowing the reader to personally sort them out. The lines of right and wrong are thoroughly blurred as the married couple decide to keep the discovered baby as their own, lying to the world about her origins. And though their reasons are understandable, a woman on the mainland suffers, praying that somehow, someday, her daughter will return home.
Trouble brews when Tom's conscience refuses to rest and his world is turned upside down with guilt and the desire to come clean. A couple once happy and in love evolve into enemies with more than one life hanging in the balance.
Rating: 5/5 Cups