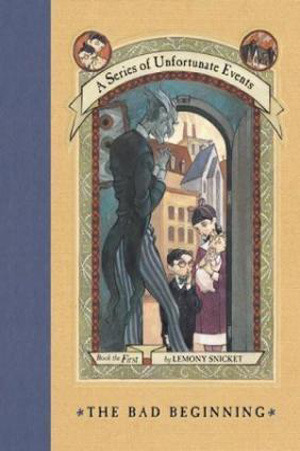 Dear Reader,
I'm sorry to say that the book you are holding in your hands is extremely unpleasant. It tells an unhappy tale about three very unlucky children. Even though they are charming and clever, the Baudelaire siblings lead lives filled with misery and woe. From the very first page of this book when the children are at the beach and receive terrible news, continuing on through the entire story, disaster lurks at their heels. One might say they are magnets for misfortune.
In this short book alone, the three youngsters encounter a greedy and repulsive villain, itchy clothing, a disastrous fire, a plot to steal their fortune, and cold porridge for breakfast.
It is my sad duty to write down these unpleasant tales, but there is nothing stopping you from putting this book down at once and reading something happy, if you prefer that sort of thing.
With all due respect,
Lemony Snicket
I've always heard great things about A Series of Unfortunate Events. So, to see if the books would be appropriate for my Goddaughter, I decided to read the first one and see what I thought. Lemony Snicket (pen name for Daniel Handler) shares a seriously sad tale of three young children who lose their parents in a terrible fire. The book is written for young readers and is, therefore, a very quick and easy read. However, the emotional connection that I usually look for when gauging/rating a book is not as deeply expressed.
Klaus, Violet, and Sunny are the three Baudelaire children. And very shortly into the book, the Baudelaire orphans. Violet likes to invent things and loves her siblings. Klaus loves to read, getting lost in a book while gaining knowledge. (There's definitely a character connection there.) And Sunny is still a little baby but she does bite which is quite fun. Readers will immediately gain the foundation for a bond with characters as their Baudelaire parents die within the first few pages. The sympathy felt for the characters will only be built upon as more unfortunate things happen to the children. Though the main connection with these characters is dependent on terrible events happening to them, the personalities of the children make it easy to like them. This in turn makes the reader not want bad things to happen to them which also strengthens the connection.
The plot of The Bad Beginning begins with the parents death. The children are then adopted by Count Olaf, a very dirty, disgusting, mean, and horrid uncle who is only interested in the Baudelaire fortune. The fortune that Violet will be able to use when she reaches eighteen. To skip the wait, Olaf designs a plan to trick Violet into becoming his wife so that he can dispose of the Klaus and Sunny while taking over control of the fortune. Though the plot and characters are enjoyable, I do recommend the 5th grade reading level as the trickery, evil mastermindedness, and subject of death may be too much bad in one book for children younger than that. I think I'm going to hold off on starting this series with my Goddaughter. Don't think she's ready for all of that yet.
Rating: 2.5/5 Cups