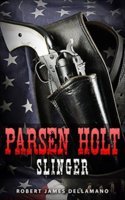 A taut, gripping western filled with unexpected encounters, interesting characters and exciting adventure!
Join Parsen as he's forced to layover in a small town that he doesn't want to be in. And whose residents don't want him there either.
Will Parsen make it out of town alive?
Novella Parsen Holt - Slinger, by Robert Dellamano, puts a renowned gunslinger in a small town that is more dangerous than it seems. Stuck for a few days because of an ailing horse, Parsen Holt faces death more often than most men and must hold his own if he wants to survive.
Parsen Holt is a seemingly good man. His background includes being a soldier in the Civil War, which demonstrates to readers his bravery, courage, and loyalty. Readers also learn that during the war, Holt killed fellow soldiers in order to save a young girl from being raped. His morals and strong sense of justice may have readers raising an eyebrow, but they will undoubtedly understand his actions. Holt is also a very unreactive man. He doesn't anger easily and tends to think things through, though he will definitely defend himself if need be.
The plot is simple. Holt is waiting on his horse to rest and heal in a western city that is known for both sides of main street. The good and the bad. Holt faces down multiple people in this novella, each with a different reason to kill him. Or try, rather. The writing style and character background is interesting and it makes me wish there was more to the story. I thought Holt's stay could have been extended a little longer so the plot could build to a more exciting climax. With a deeper background, I also feel I could have connected with Holt a little more. Though, I did like his smirk and vigilante style of justice.
Rating: 2.5/5 Cups