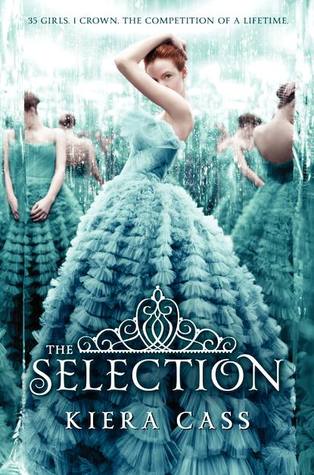 For thirty-five girls, the Selection is the chance of a lifetime. The opportunity to escape the life laid out for them since birth. To be swept up in a world of glittering gowns and priceless jewels. To live in a palace and compete for the heart of gorgeous Prince Maxon.
But for America Singer, being Selected is a nightmare. It means turning her back on her secret love with Aspen, who is a caste below her. Leaving her home to enter a fierce competition for a crown she doesn't want. Living in a palace that is constantly threatened by violent rebel attacks.
Then America meets Prince Maxon. Gradually, she starts to question all the plans she's made for herself--and realizes that the life she's always dreamed of may not compare to a future she never imagined.
Kiera Cass gives readers a futuristic, written version of "The Bachelorette" with a royal twist. After WWIV, the United States has become Illea, ruled not by a president but by a King and Queen. Now, the Prince is looking for a wife and to find one he must go through The Selection, a contest for 35 girls who go up against each other to see which one will become the Princess.
The main character of The Selection is America Singer, born into caste level five which include musicians and artists. America has a positive outlook, always keeps her head up, and is very level headed. She loves her family and wants nothing more then to spend the rest of her life with the man that she falls in love with. America is very talented on the violin, among other instruments. She's giving, caring, compassionate, and friendly. Readers will fall in love with her more and more with each chapter. Though it's difficult to connect with her specific situation, if we zoom out a little bit, it's easier to take it in. America is growing into an adult and wants to be able to provide for her future. A future that she would like to choose for herself. As she discovers what she wants in a life partner, through the selection process, readers can relate to the surprising nature of desires and the uncertainty of shifting feelings, hopes, and dreams.
The Selection begins with a letter announcing that the search for the next princess is about to begin. Though America doesn't want to take part, she is convinced to give it a go. Surprising to everyone, except the reader, America is chosen as one of the 35 lucky girls. She, however, is only going to get away from Aspen, the first man to break her heart. She quickly becomes friends with the Prince, in a quite hilarious way, and tells him everything. Feeling quite lucky to have found a friend, the Prince agrees to let America stay though she doesn't want to actually participate in the contest. But, as previously stated, feelings shift and unexpected kisses do happen. Kiera Cass keeps readers entertained with witticism and sticky situations. I literally laughed out loud more than once! Though I'm not sure who I'm rooting for in the selection or for America, I am intrigued enough to keep reading. But would it be incredibly predictable if America did win? She is the one who the story is about. I hope there's a big twist somewhere in the next two books, or I may be left feeling a little disappointed.
Rating: 3.5/5 Cups