To play along, just answer the following three (3) questions…
• What are you currently reading?
• What did you recently finish reading?
• What do you think you'll read next?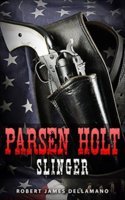 01. Currently Reading:
Fallen in between books again.
02. Recently Finished:
The Best Kept Secret
by Wendi Nunnery. Wow. What a powerful book! Cannot wait to share my review with everyone on June 3rd!
03. Reading Next:
Parsen Holt - Slinger
by Robert Dellamano. Switching things up with a little western reading coming up next.