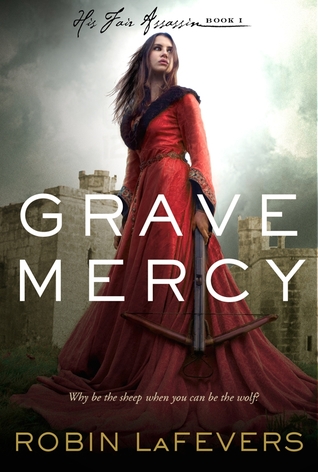 Why be the sheep, when you can be the wolf?
Seventeen-year-old Ismae escapes from the brutality of an arranged marriage into the sanctuary of the convent of St. Mortain, where the sisters still serve the gods of old. Here she learns that the god of Death Himself has blessed her with dangerous gifts—and a violent destiny. If she chooses to stay at the convent, she will be trained as an assassin and serve as a handmaiden to Death. To claim her new life, she must destroy the lives of others.
Ismae's most important assignment takes her straight into the high court of Brittany—where she finds herself woefully under prepared—not only for the deadly games of intrigue and treason, but for the impossible choices she must make. For how can she deliver Death's vengeance upon a target who, against her will, has stolen her heart?
I'm a little bit behind on this series, as I've been wanting to read this for some time. So, now, let me jump on the bandwagon and say -- Assassin nuns! The idea alone is completely and absolutely wonderful. Robin LeFevers uses historical events and details to weave her own story about the country of Brittany and a convent of sisters who serve Saint Mortain, the saint of death, in her novel Grave Mercy.
This first installment focuses on Ismae, a girl scarred from birth and claimed as one of Mortain's daughters. Saved by an herbwitch and a priest, Ismae is hidden and taken to the one place she can be safe and learn to survive (and more). She's taken to become an assassin for Death himself. Ismae is a quiet creature, very reserved. She's so unsure at the beginning that it's difficult to assess her personality. Ismae is incredibly self-conscious. She's also nervous yet eager to prove herself as a skilled, competent assassin. Her loyalty and dedication to her gift is remarkable. Her ability to survive any type of poison is impressive. Readers will enjoy these little characteristics at the beginning. The connection between Ismae and readers will start to thicken as Ismae becomes a key player in the plot of Brittany politics. Her seemingly emotionless stature is replaced by a woman who is learning that life is more complex than ever imagined, and serving Saint Mortain isn't as black and white as the convent made it seem. As Ismae starts thinking for herself and using her own judgement, not to mention falling in love with Gavriel (!), readers will see her open up.
The plot of Grave Mercy loosely follows real historical events. The band of Saint Mortain's assassins serve their country first. When they learn that Gavriel Duval, the duchess's half-brother, may be in cahoots with France, they send Ismae to keep an eye on him and to gather information by pretending to want to help him. Soon Ismae starts to believe the traitor is someone other than Gavriel and she is determined to flush them out, but her heart serves as a distraction making the assignment more difficult than it first seemed. The story line completely captivated me. I love historical fiction and this was absolutely delightful. I think readers who enjoy tales of royal betrayal and slow blooming love will devour this book, much like I did. I absolutely do not want to wait to get my hands on the next one. This is definitely a trilogy for the book shelf.
Rating: 4/5 Cups