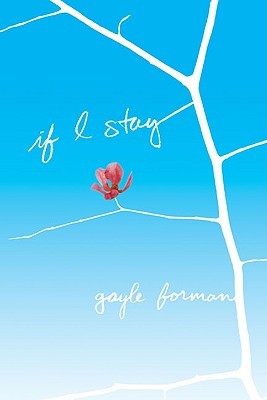 Just listen
, Adam says with a voice that sounds like shrapnel.
I open my eyes wide now.
I sit up as much as I can.
And I listen.
Stay
, he says.
Choices. Seventeen-year-old Mia is faced with some tough ones: Stay true to her first love—music—even if it means losing her boyfriend and leaving her family and friends behind?
Then one February morning Mia goes for a drive with her family, and in an instant, everything changes. Suddenly, all the choices are gone, except one. And it's the only one that matters.
If I Stay is a heartachingly beautiful book about the power of love, the true meaning of family, and the choices we all make.
By now, a lot of Gayle Forman fans have seen the movie adaptation of the book, If I Stay. I have to admit, I saw the movie in theaters when it first came out and have only just now finished the novel. I wish I wouldn't have waited so long to read it; it is quite wonderful, poignant, heartwrenching, and more. However, since I had already seen the movie, I knew what Mia's choice was going to be. (Unless something happened like in My Sister's Keeper and the endings were totally different... but that isn't what transpired.) That being said, knowing the ending did not save me any emotional exploration or experience with Miss Mia. And wow, what a day we both had.
The first twenty-four hours are critical for a patient in a coma. The readers experience this limited time frame with Mia as she realizes her grave condition, learns that the outcome is her choice, and finally makes a decision. Mia is a high school senior who loves the cello and a boy named Adam. She's modest, sophisticated, loving, generous, and knows exactly how blessed she is. Mia is open with the readers in her uncertainty and nervousness at living in a world without her family in it. Readers will completely understand how difficult her decision is. And either way, we accept that it's her choice to make. The terrible tragedy of her parents dying instantly at the beginning immediately forms a foundation with readers. The bond is solidified forever when Teddy, her little brother, passes. The hope of Adam and Mia's love story, the faith of Mia's grandparents, and the fierceness of her best friend give Mia a reason to fight, but is the loss too much to bear?
If I Stay covers a little more than twenty-four hours of a random day in Oregon when a family of four went for a drive and tragedy struck. Inspired by true events, Gayle Forman explores the choice of life or death, struggle or peace. Readers will undoubtedly connect with Mia as she shares her life story while watching the consequences of her accident unfold. The honesty of Mia's indecision is both powerful and honorable. The writing style is clear and concise while sharing the most intimate details of Mia's short life. I am very interested in where Mia went after her decision and, though I am probably the last one, I cannot wait to read the next book.
Rating: 4.5/5 Cups