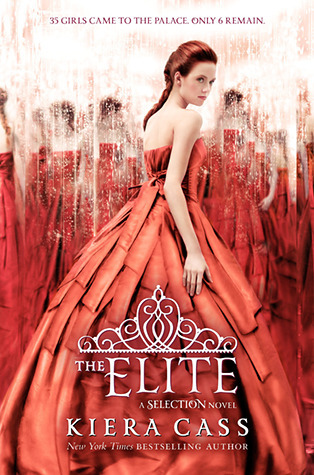 The Selection began with thirty-five girls.
Now with the group narrowed down to the six Elite, the competition to win Prince Maxon's heart is fiercer than ever—and America is still struggling to decide where her heart truly lies. Is it with Maxon, who could make her life a fairy tale? Or with her first love, Aspen?
America is desperate for more time. But the rest of the Elite know exactly what they want—and America's chance to choose is about to slip away.
America Singer is still in the running to be the country's next princess in The Elite by Kiera Cass, the second book in The Selection series. At first, America wanted nothing to do with the competition. She was heartbroken. Prince Maxon understood and appreciated her honesty. But now, she's in to find out whether Maxon or Aspen (the first boy to break her heart) is the right guy for her.
America, sadly, loses points with me in this sequel. She's still compassionate and caring. But sneaking around with Aspen while she's supposed to be dating the Prince...? Erhm. That definitely doesn't sit well with me. Watching America begin to fall for Maxon in the first book, combined with her generous and loving personality, was what won me over. But she seems so wishy-washy in this book that I just wanted to yell at her to make up her mind. I understand, two great guys, each one so unique in their abilities and natures, but seriously. Seriously. It was a little tiring watching her bounce between liking Aspen and then disliking him, liking Maxon and then disliking him. Over and over. America also becomes so closed off that it's tough to take. I loved her openness with Maxon in the first book, tiptoeing to the edge of bluntness. Now, she draws one negative conclusion and she's racing away from him like he's the devil incarnate. I feel like these situations, assumptions, and indecisiveness will disconnect readers from her character. Though her relationship with her father truly warmed my heart.
The Elite's plot is quite similar to the first one. Obviously, she's still in the competition and Prince Maxon is the bachelor. But now, Aspen is working in the palace as a guard and is determined to show America that he was wrong by ending their relationship. However, she has decided that she should attempt to win Maxon's heart, and give her own time to decide if she could ever love the Prince. But then after she admits it's a possibility, she begins to sabotage her own happiness. Why? That's a good question. She's obviously scared about her duties as the Princess and the future Queen, which is very understandable. And that may be the only reason I still feel connected to her at all. At the end of this installment, *spoiler alert* America is nearly kicked out of The Selection, but she gets to stay on a technicality and a promise of good behavior. I am going to read the third book, don't get me wrong, but I'll be reading it to find out the end to Maxon's story and the mystery behind the rebel attacks. I hope America can bring me back to her side, cause I'm caught in the middle between her and Kriss.
Rating: 2/5 Cups