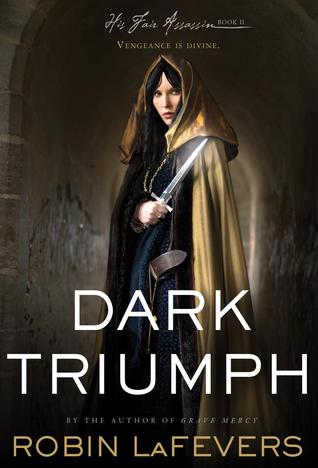 When Sybella arrived at the doorstep of St Mortain half mad with grief and despair the convent were only too happy to offer her refuge - but at a price. The sisters of this convent serve Death, and with Sybella naturally skilled in both the arts of death and seduction, she could become one of their most dangerous weapons.
But her assassin's skills are little comfort when the convent returns her to the life that nearly drove her mad. Her father's rage and brutality are terrifying, and her brother's love is equally monstrous. But when Sybella discovers an unexpected ally she discovers that a daughter of Death may find something other than vengeance to live for...
Sometimes I commend myself on not catching onto a series until all of the books are out because that means one important thing: no wait! And with the His Fair Assassin series, the struggle would have been quite real. Robin LaFevers continues the series with book two, Dark Triumph, which focuses on Sybella, a character briefly introduced in Grave Mercy. Though she seemed wild and completely insane in book one, that changes drastically in this installment, giving readers a very deep look into the complexity that is Lady Sybella D'Albret.
That's right. She's a D'Albret. One of the main villains (if not the biggest villain) is the father of Sybella of Saint Mortain. Though I use the term 'father' loosely as readers of the series know that Death's Handmaidens are all sired by Death himself. Immediately, Sybella is torn between good and bad, right and wrong. Through many trials and recounted tribulations, readers will slowly but most certainly come to see her as an incredible, resilient character. Sybella has a past that 'haunted' doesn't even begin to describe. She was not only molested by her brothers, she was beaten, tortured, and somehow managed to live through it all. Both sympathy and empathy will allow readers to fully connect with Sybella while at the same time, her love story with the Baron of Waroch, also known as Beast, will give readers hope that she can have a happily ever after.
The story line picks up a few pages before book one ends. Readers see Sybella going to warn Ismae of the trap she and the Duchess's entourage have just waltzed into. Following which, Sybella's story truly begins. Readers discover that Sybella was sent to the D'Albret household for two reasons. The first being, obviously, to spy. The second would be to deal the killing blow to D'Albret, but he remains unmarqued for death, forcing Sybella to stay her hand. When she receives direction to save the Baron of Waroch, who is trapped in the dungeons, Sybella decides that after freeing him, she will kill D'Albret no matter the consequences. Instead, she is accidentally knocked out and taken with Beast to the countryside. A quite humorous and happy kismet.
Now, on the run for both of their lives, Sybella must transport Beast across the country while nursing him back to health. The love story in this second book is much like the first, slow burning. The background love story adds to the intrigue of the fictionalized history while remaining as a subplot and allowing the fight for life, liberty, and the country of Brittany to take the main stage. Though revenge does play a large role. With the first two books in this trilogy being so engulfing, I absolutely cannot wait to get my hands on the final one. No matter how much I don't want the assassin nun trilogy to end.
Rating: 4.5/5 Cups
Book One