To play along, just answer the following three (3) questions…
• What are you currently reading?
• What did you recently finish reading?
• What do you think you'll read next?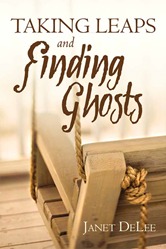 01. Currently Reading:
Brightly
by Kaye Thornbrugh. Sequel to the book Flicker I reviewed a little while ago. The misfit team of magical humans are blackmailed into helping heal an island suffering from a strange disease.
02. Recently Finished:
The Fulfillment
by Erin Rhew. The final installment of The Fulfillment series. Layla, Nash, and Wil seek peace by trying to defeat the evil in the world, but the struggle to understand the roles they were assigned in the prophecy.
03. Reading Next:
Taking Leaps and Finding Ghosts
by Janet DeLee. When Ginny put together a support group for like-minded individuals, she didn't know she'd have to deal with ghosts, too.