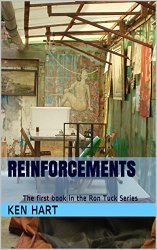 The novel is the first of the Ron Tuck series. It is set in 1969 and explores the relationship between two friends whose lives are going in different directions. It is a story that moves the reader from a bowling alley to a college campus and finally to an anti-war demonstration in Washington, D.C. It is a comedy that pokes fun at coming of age sexuality, social mores, and familial relationships. It is a story about self-exploration and the need to learn.
Kenneth Hart explores the line dividing childhood and adulthood in his novel, Reinforcements. Ron and Hank are friends, both in their early twenties, forging different paths in an attempt to define themselves. Ron chooses to leave work at IBM and go back to school, though he doesn't know what for, while Hank chooses to take a chance at love.
Ronald Tuck is a young man with only one thing on his mind: women. He seems to believe college will allow him to find an endless supply of sexual encounters. Ron is a self-centered character with a sketchy past involving therapy and being misunderstood. Though he is an interesting character with many layers, readers may have a hard time connecting with him. He's not the nicest guy on campus and has a short fuse when he isn't getting what he wants. When he is faced with people who don't share his opinion, Ron becomes quickly frustrated. In his first semester of college, Ron is subjected to an array of situations that are outside of his comfort zone. Soon he finds his place with the student newspaper, creating controversy with his outspoken nature and opinion of the war.
Hank is just as naïve as Ron but in a different way. Hank wants to love and be loved. Unfortunately his rose-colored glasses cloud his judgment and he becomes involved with a woman who does nothing but take advantage of him. Hank believes that he can sweep JoLee away from her pig of a husband, turn her life to luxury, and fulfill her every dream. Readers will have hope for Hank though it seems nothing will be enough. After he pretends to marry JoLee, Hank's parents continue to support him. JoLee sees him as weak and soon he begins to believe it. Readers can see that Hank is soon suffering from a debilitating depression that he can't find his way out of. Everything that he thought would make him happy just causes him to sink deeper into his uncertainty. I think empathy and understanding of Hank's circumstances will help readers connect with him better though it's hard to understand how he doesn't see the stem of the problem.
The plot of this novel isn't an easy linear projection. Reinforcements is focused on emotional response and situational awareness as well as the growth that comes from each. Defining and discovering oneself isn't an easy undertaking, but it's a universal experience. As Ron explores what college has to offer and Hank focuses on creating a life revolving around love, the characters learn more about themselves, face challenges that disrupt their world views, and encounter new people with different beliefs. Though it may have been the formatting of the Kindle edition of this book, at times the storyline was a bit difficult to understand. The focus between Ron and Hank quickly shift, sometimes without prior clarification. Also, character history is dropped randomly in the middle of important situations. The interesting nature of the story conflicts heavily with the vulgar and blunt writing style. Reinforcements is not a book for the faint of heart or anyone who shies away from the occasional curse word or sexual description. Reinforcements is the first book in the Ron Tuck series and it's unclear where the characters will lead, or find, themselves in this coming of age tale as they search for knowledge and self-truth.