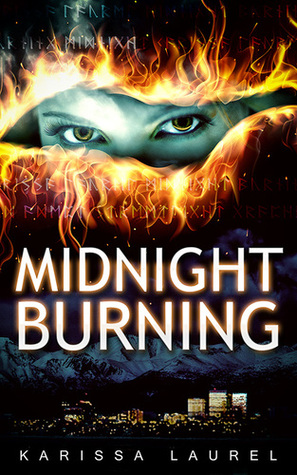 Solina Mundy lives a quiet life, running the family bakery in her small North Carolina hometown. But one night, she suffers a vivid nightmare in which a wolfish beast is devouring her twin brother, who lives in Alaska. The next morning, police notify her that Mani is dead. Driven to learn the truth, Solina heads for the Land of the Midnight Sun. Once there, she begins to suspect Mani's friends know more about his death than they've let on. Skyla, an ex-Marine, is the only one willing to help her.

As Solina and Skyla delve into the mystery surrounding Mani's death, Solina is stunned to learn that her own life is tied to Mani's friends, his death, and the fate of the entire world. If she can't learn to control her newfound gifts and keep her friends safe, a long-lost dominion over mortals will rise again, and everything she knows will fall into darkness.
I'm officially fan-girling over the characters in Karissa Laurel's Midnight Burning. Norse mythology has laid a familial foundation for Laurel's characters and it looks like someone wants history to repeat itself. Specifically... the Ragnarök. Solina Mundy may seem like an innocent bystander, but she refuses to actually be one.
Solina Mundy's twin brother was murdered in an Alaskan city and the police investigation has gone cold. She goes against everything she believes herself to be in order to discover what really happened by flying to Alaska. Solina is a simple girl with a knack for witty comebacks. She enjoys baking and living vicariously through her brother, Mani. But she also has horrible nightmares and the one she had about Mani came true. Readers will enjoy Solina's go-get-'em attitude and her dedication to her twin.
The supporting cast of characters will also excite readers as the rowdy bunch tries to protect Solina while finding out what's exactly going on. Thorin, Val, and Skyla all worked with Mani before he died at Thorin Adventures, which specialized in outdoor guided trips. Skyla is a total badass. She's a former Marine who doesn't shy away from anything. Thorin is the boss who doesn't warm up quickly but has something going on under that tough exterior. And Val... he's the charmer who has his sights set on Solina. Mix all these different personalities up with deadly werewolves and an evil goddess of the underworld and well, there will be fireworks.
The death of Mani is the beginning of this story but not the beginning of the story. Norse mythology and exactly what happened at the first apocalypse has that honor. Solina and her brother are special descendants/reincarnations of Norse figures and had no idea. But someone knew and wanted to repeat history by killing them. To stop that, Thorin, Val, and Skyla (with the help of others) must keep Solina safe. The writing style of this book modernizes the Norse mythology and makes it (pretty) easy to understand. Readers will like the action and adventure mixed with secrets and danger. And after a semi-unexpected ending, I cannot wait for the next book.