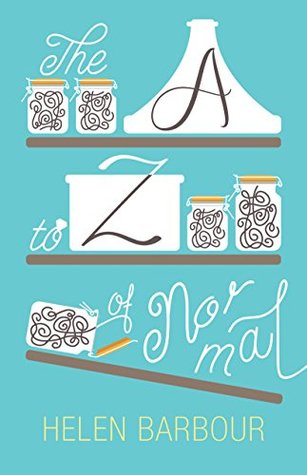 Clare Thorpe's need for order and symmetry governs everything she owns – from tins and toiletries, to cushions and clothes.
Yet she has always managed to hide the compulsions dominating her world. Until now.
When long-distance boyfriend Tom proposes, her secret life begins to unravel. How can she share a future with the man she loves, if she can't even share her space?
And when the only way forward brings a threat greater than any compulsive behaviour, do they have a future together at all?
A poignant and humorous story of love, family, secrets…and military precision.
Helen Barbour takes readers inside the life of a woman plagued with Obsessive-Compulsive Disorder who desperately wants to find peace in her novel, The A to Z of Normal. It takes Clare hours to perfect her home and now that she's engaged, she doesn't want problems popping up in her relationship. So Clare decides to take control of her controlling OCD and try to muss it up a bit.
Clare is a really nice, likeable character. The story focuses solely on her so readers get the in-depth look into her world with OCD. It's easy to see that living with this disorder is an everyday struggle. Readers will connect with Clare empathetically as well as sympathetically, but there's also her personality outside of the controlled realm that readers will see and like. She worries about her father, her sister, her niece and nephew. Clare's a fantastic Auntie who spends real, quality time with her niece and nephew. Clare is also loving, friendly, and a bit naive. The OCD doesn't define her and Clare learns that when she tries to overcome it. The only thing I didn't like about Clare was the cheating incident ... and then the lying incident. I don't think it's right that she failed to tell Tom about it, but I also don't think it's right that another character basically tricked Clare into thinking her relationship with Tom was over. It's a catch-22 situation, but I think Clare should have come clean.
The A to Z of Normal is a well written novel with humor, love, acceptance, and strength. I really enjoyed the dialect that Barbour used for this novel. It was fun to read the British-English terms in the dialogue and the narrative. The plot was pretty well laid out, Clare and Tom get engaged at the beginning causing Clare to realize that she has to work on her OCD if they're ever going to live together happily ever after. Throw a couple of wrenches into that simple plan and readers will enjoy the bumpy ride. I'm sure this novel could help those living with OCD to know they aren't alone, but it's also a book for people who are interested in understanding OCD a bit better while being entertained with a love story.
Rating: 4/5 Cups