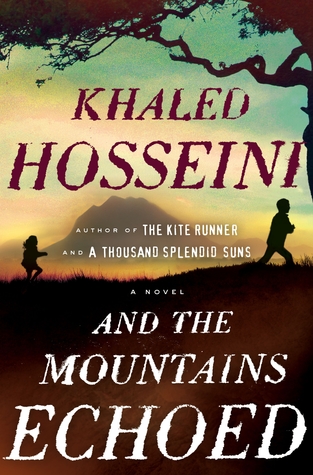 Khaled Hosseini, the #1 New York Times–bestselling author of The Kite Runner and A Thousand Splendid Suns, has written a new novel about how we love, how we take care of one another, and how the choices we make resonate through generations.
In this tale revolving around not just parents and children but brothers and sisters, cousins and caretakers, Hosseini explores the many ways in which families nurture, wound, betray, honor, and sacrifice for one another; and how often we are surprised by the actions of those closest to us, at the times that matter most.
Following its characters and the ramifications of their lives and choices and loves around the globe—from Kabul to Paris to San Francisco to the Greek island of Tinos—the story expands gradually outward, becoming more emotionally complex and powerful with each turning page.
And the Mountains Echoed by Khaled Hosseini opens with a fairy tale being told to two siblings, Pari and Abdullah. The fairy tale shares the story of a small Afghanistan town who is plagued by a monster. When the monster comes, he chooses one family who must sacrifice a child in order to save the town. No one knows what happens to the children after they're taken by the monster, but one father is determined to find out after his favorite son is chosen. He tracks the monster to a cave where he demands his child to be returned, but he finds out that his son doesn't remember him and is living a perfect life, blessed and well taken care of. The father decides to let him stay, knowing that he'll never give his son that kind of life.
The fairy tale foreshadows the events that set the entire novel in motion. Saboor, the father of Pari and Abdullah, decides to sell his daughter in order to give her a better life. Separated, Pari forgets her brother as she grows and though Abdullah remembers her, they both feel a distinct absence in their lives.
The novel is composed of a variety of characters that are all connected by the threads of Afghanistan culture. Spanning the 1940s to the present, And the Mountains Echoed offers readers a story so intricate, it's delicate nature is surprising, heartbreaking, hope-inspiring, and a bit magical. Each character has their positive and negative characteristics, as Hosseini outlines how they're all connected by their metaphorical mother, Afghanistan.
The plot follows the separation of Abdullah and Pari, and everything that worked within the world to bring them back together. Though their reunion becomes bittersweet, haunted with memory loss and physical limitations. And the Mountains Echoed describes how Pari came to be sold to the Wahdati family, how Pari learns that she was adopted, and how she finds her brother Abdullah. I think Pari is the character most represented throughout the book and that readers will have a fairly easy time forming a connection with her. Other characters shift in and out of focus, making their connections less formidable. Although, there are a few characters which allow their histories to create emotional connections in the book. Thalia is one such character. Her story of being bitten by a dog, causing her face to become deformed, and how she grows to accept her tragedy as a part of herself to *not* be ashamed of is inspiring, brave, and a great demonstration of strength. Out of all the characters, Thalia was by far my favorite. Her strength and determination both commendable qualities.
Though this book is not a completely happy one, I think it's main message is that life can be beautiful within the tragedies. Life never works out perfectly, but there are moments, like feathers, that can be held above the rest. Khaled Hosseini does a fantastic job in bringing readers into the culture of Afghani people, while spinning a believable story from the opening fairy tale.
Rating: 4/5 Cups