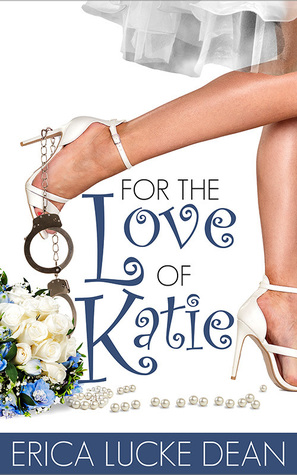 Newlywed Katie Maxwell is ready to settle down and leave her amateur detective days behind. But when the veil of secrecy surrounding her husband's latest project takes them to Europe, her penchant for sleuthing lands her in some serious hot foreign water.
Katie will need to think quickly to talk her way out of handcuffs and a Parisian jail cell. Too bad she doesn't speak French.
For the Love of Katie is the second madcap adventure in The Katie Chronicles. This book can be read as a standalone, but why would you want to skip the first?
Erica Lucke Dean combines romance with clumsy humor in her book, For the Love of Katie, the second in the Katie series. Though I didn't read the first book, which I think would have helped me connect with the main character, I did enjoy how funny this book was.
Katie Maxwell is a very clumsy woman to the point where it's almost as if she's been cursed with extreme stair-tripping, incriminating-photography, can't-do-anything-right bad luck. Though it's funny for the reader as Katie repeatedly gets herself into hot water that she must expansively explain once she's gotten caught. This aspect of Katie is one that brings readers into her chaotic life. As a main character, she's kind of a mess, but in a humorous, light-hearted way. It makes it easy for readers to like her, as we've all done things that we're embarrassed about. With this major character trait, Katie becomes more down to earth. However, as I do admit I didn't read the first book, I thought that Katie was little... over-presumptuous, secretive, and untrusting when it came to her husband.
Katie is a woman who likes to have all the info. And sometimes, to get it, she'll resort to lying and trickery. Even her husband calls her Nancy Drew. While, I can see these tactics useful in a few of the situations, I think if Katie was more open in the lines of communication, she'd get the answers she wanted faster and without as much drama. But, then again, where would the fun be in that?
The book opens in Paris with Katie in a police station, arrested for trying to sneak on set of the film adaptation of her husband's book. When the police officer asks her to start at the beginning, Katie complies, happily, thus setting up the frame with which Dean shares the story. The book then flashes back to before the couple was engaged and shares the entire narrative of how Katie came to be in Paris and why she was pretending to be a movie extra when she was arrested. The book contains a lot of situational comedy and, as previously mentioned, hot water fiascoes. And although I didn't feel a deep connection with Katie (I was a bit annoyed at times), I did enjoy the book overall. It's a nice, easy read with funny characters, good plot action to propel the story forward, and a rewarding ending.
Rating: 3/5 Cups