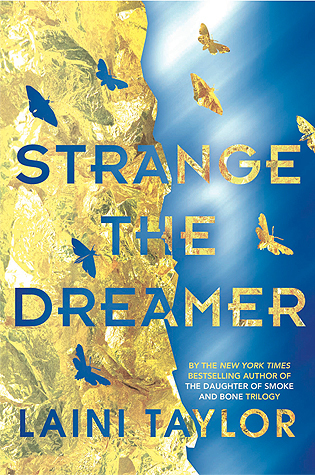 The dream chooses the dreamer, not the other way around—and Lazlo Strange, war orphan and junior librarian, has always feared that his dream chose poorly. Since he was five years old he's been obsessed with the mythic lost city of Weep, but it would take someone bolder than he to cross half the world in search of it. Then a stunning opportunity presents itself, in the person of a hero called the Godslayer and a band of legendary warriors, and he has to seize his chance or lose his dream forever.
What happened in Weep two hundred years ago to cut it off from the rest of the world? What exactly did the Godslayer slay that went by the name of god? And what is the mysterious problem he now seeks help in solving?
The answers await in Weep, but so do more mysteries—including the blue-skinned goddess who appears in Lazlo's dreams. How did he dream her before he knew she existed? And if all the gods are dead, why does she seem so real?
This new novel is everything I want from each Laini Taylor book I read. It's full of rapt descriptions, amazing imaginative details, and deep, complicated meaning. Strange the Dreamer excels in creating a whole new world of fantasy that allows love to blossom, magic to bloom, and leaves fear to rule.
Lazlo Strange is a dreamer. A dreamer is what he is at heart, at the very core of his being. He's interested in magic and myths and especially stories. He likes to know them all, in particular the ones that no one else knows. So he studies Weep, in the dark and forgotten rooms of the library. Weep was a magical land that no stranger ever set eyes on and Lazlo wants to one day see it for himself now that it's empty and forgotten, though it isn't either of those things. Lazlo's character is open minded, helpful, persistent, honorable, and has an unbelievable, limitless imagination. When he gets the chance to go to Weep, Lazlo agrees to be the great Eril-Fane's secretary, doing any odd jobs that will get him to the lost city. But there's something strange about Lazlo Strange and I think readers will catch on to it early. Throughout the whole book, it seems like he is meant for something greater. He is the main character after all. With this sense, readers will connect with Lazlo, wanting him to be something more because he wants to be something more. He wants to be the hero of his own story and the readers will want that too. And when he meets Sarai... that path opens to him.
Sarai is half-human, half-god. To the citizens of Weep, she's known as godspawn, which is a negative moniker. She lives in a statue that floats above the city of Weep with four others like her, and no one in the city knows they're there. The gods that came before these five were harsh, selfish, controlling, and committed unspeakable acts. That's why the great Eril-Fane killed them all. Now the five that survived live in fear that one day the people of Weep will learn of their existence. And that time has come. Sarai knows that she should want revenge and feel hate for what the people of Weep did, but she doesn't. Sarai wants peace and she wants to be able to live her life, not just try to stay alive. Readers will connect with Sarai through her dreams, regrets, and hopes for the future. Taylor's writing style is so descriptive that readers will get a three-dimensional view of these main characters. Readers will knows what is in their heads, hearts, and dreams, which makes for very understandable and relatable characters.
Strange the Dreamer is a book about stories, myths, and dreams. The main plot line follows Lazlo as he is recruited with a group of other foreigners to solve the problem of Weep. The problem being that there is an enormous angel statue floating above the city, blocking out the sky, the sun, and the moon. Yet, the city doesn't know that there are survivors living in the statue. And, surprisingly, Lazlo is the first to learn of this as Sarai visits him in his dreams. And with that, the legend that will be is beginning. The only thing I didn't like about this book was the ending. Even though there will be a sequel, and I'm sure an answer will surface, the ending was not a happy one. But, as I said, this is only the beginning and I trust Taylor to craft an amazing series that will resonate with all her readers.
Rating: 4.5/5 Cups