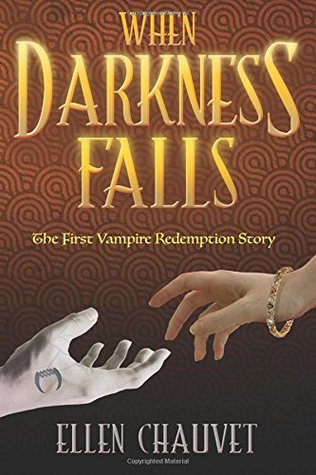 Lexie Miles, a strong-willed Southern woman with a raw vocabulary and a taste for sex, is living her dream life in Paris. She is devastated when her best friend Emma is brutally murdered by vampires. From that moment Lexie's "perfect world" begins to crumble. She discovers her entire life has been a sham and everyone she cares about has been lying to her. Angry doesn't begin to describe her reaction to the news.
Plunged into a two-thousand-year-old war between good and evil, she is propelled into a world of blood, lust and dark secrets. She must embrace her birthright to fight an ancient threat to humanity. Bequeathed with the dubious gift of being the "Chosen One," Lexie meets the enigmatic Etienne Benoit. She falls hard for him and when he betrays her, she vows to get revenge. After all, she is a vampire executioner and killing vampires is what she does.
Ellen Chauvet explores the world of good and evil in her novel, When Darkness Falls. After the death of Emma, Lexie is pulled into a world she thought of as fictitious and learning it's in her blood is a whole other betrayel. This book revolves around Lexie as she tries to come to terms with her heritage and her innate career of vampire hunting.
Lexie Miles is nearly thirty and almost ready for a husband and a white picket fence. That is, until she learns that she was born in to a family of vampire hunters. This southern belle is forced (not really but kind of) into giving up her fluffy dreams of happily ever after and handed a stake to drive into any hearts she feels need breaking. There's no doubt that Lexie is a strong character. She deals with the death of her best friend and decides to really take on this 'calling' of being a vampire hunter with little to no idea what she is truly getting into. That strength of character goes a long way, as I wasn't really a fan of Lexie's personality or southern mannerisms. To me, Lexie is a bit naive in terms of romance, trust, and love. If I were her, I feel like I would have been overly cautious. And she definitely should not have jumped into bed with a vampire. No matter how cute or whatever he was. However, that wasn't even the worst thing. The thing that bothered me the most was Lexie's dialogue. Her character is from Atlanta and, as I actually know people from Atlanta, I don't think they use as many "southernisms" as Lexie did. On the other hand though, catching culture in dialogue is a tricky thing to do for any author and I do give Chauvet props for leavin' off the 'g's and spelling out Lexie's southern drawl.
The plot of this novel was pretty interesting and I think it's what kept driving me toward the end even though I didn't connect with the main character. Emma, Lexie's friend who is murdered, is a scientist who developed some sort of antiserum to protect the human race from being turned into vampires. Francois and Marielle are two very old vampires who have been building an army for about five hundred years. Needless to say, they want this antiserum, the formula, and something called 88p, which from what I could gather would make them basically unstoppable. Before her death, Emma hid the information and left a trail of clues for Lexie, Tom, and Etienne (members of the Society). Time is running out, and they must finish this treasure hunt before Francois and Marielle attack. Très divertissant! Oh, did I forget to mention that there is French sprinkled throughout the book? That was my favorite aspect of the novel. However, one other thing I need to mention about this book is that there are quite a few erotic sections. I thought these sections detracted from the storyline because it's written with such a 'time is of the essence' sense. So, I do want to recommend this book for the storyline because it really is interesting. However, the erotic sections make it inappropriate for some readers.
Rating: 2.5/5 Cups