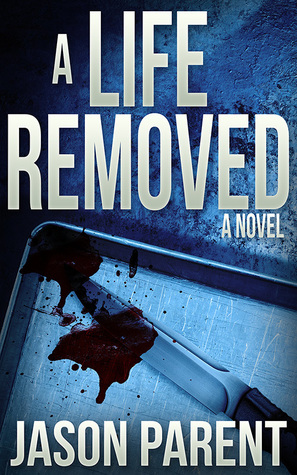 Detectives Bruce Marklin and Jocelyn Beaudette have put plenty of criminals behind bars. But a new terror is stalking their city. The killer's violent crimes are ritualistic but seemingly indiscriminate. As the death toll rises, the detectives must track a murderer without motive. The next kill could be anyone… maybe even one of their own.
Officer Aaron Pimental sees no hope for himself or humanity. His girlfriend is pulling away, and his best friend has found religion. When Aaron is thrust into the heart of the investigation, he must choose who he will become, the hero or the villain.
If Aaron doesn't decide soon, the choice will be made for him.
Jason Parent takes a semi-used plot and twists it to new extremes in his novel, A Life Removed. When multiple murders are discovered in a small Massachusetts town, with the victims' hearts missing, the police force is pushed in an uncomfortable direction, one that uses the facade of religion to twist innocent people into murderers.
Though Aaron isn't the leading detective in this crime thriller, he is the main character of the novel. Aaron is a mentally unstable police officer with a heart chilling secret. He suffers from depression and has tried to commit suicide twice, yet he goes on living, unhappy and unfulfilled. Though there's something distressing in his personality, readers will empathize with him as he struggles to find meaning and to enjoy his life. This creates a connection between readers and Aaron, as readers begin to understand Aaron's internal emotional turmoil. However, after Parent brings readers into Aaron's corner, he sets Aaron up in a tricky situation, one that could turn a man into a monster.
The story begins with Aaron as the first detective on the scene when a murder victim is discovered. The body count quickly rises and it's soon apparent that a serial killer is on the loose. It's revealed that the killer is using religious texts to justify his work just before it becomes obvious that this is not a one man operation. A Life Removed straddles the fence on various topics, utilizing religion and charismatic power to drive innocent people to play redeemer. Though none of the characters are very likeable or easy to relate to. As previously mentioned, Aaron has a dark secret which immediately pushed me away from his character, though I did root for him to resist the temptation so readily laid out for him. The two detectives, Bruce and Jocelyn, make a good team but Bruce is too desensitized to seem like a good person. However, Jocelyn is probably the character who offers the most in way of connection as a mother, an intelligent investigator, and the semblance of a balanced life and an honorable moral compass.
Probably the most disturbing thing about this book was the true motive of the killers. This leads into the realm of spoilers, so feel free to skip this paragraph. The killers were murdering their victims in order to save their souls. However, after the removal of their hearts, the group would then eat bits of the raw muscle. This was supposed to allow them to take a part of their victim's soul into their own. This is disturbing by itself, but it's even more so because the killers were getting stronger after doing so. These details give the murders an even more eerie aspect as a medical aspect is added to the plot.
Though this novel was highly entertaining as a crime thriller, I don't know if it would be a good fit for everyone who enjoys the genre. There are some iffy ethics and religious motivations that I could see offending some people. I've read books before that involved murder in the name of religion and it's always a really tricky plot to pull off successfully. Though I think Parent does a good job in remaining neutral as the author, there are obvious marks against his characters that make them easy to dislike. There were also numerous uncomfortable situations with grisly detail, which is pretty common in the crime genre, but I still think deserves mentioning for future readers. Overall, this novel was a consuming crime thriller that bordered on the uncomfortable just enough to engage and entertain without stepping over any lines. I think I'd recommend it for most readers who enjoy the genre, but certainly not all.
Rating: 3/5 Cups