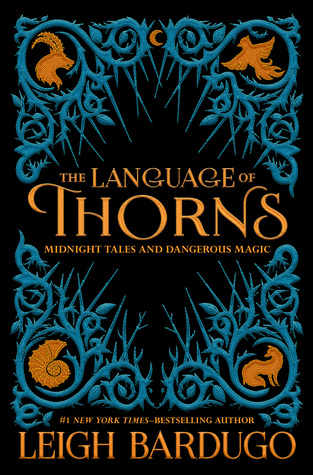 When Water Sang Fire
This story is the longest in Bardugo's collection,
The Language of Thorns
, and therefore provides the deepest character connections and the most intricate, magical detail. "When Water Sang Fire" is the story of a mermaid, Ulla, and her dearest (if only) friend, Signy. As mermaids, or merpeople, these special creatures have the power to sing magic into being. When they are young, Ulla and Signy learn that together they are the strongest singers in their colony. They can sing almost any magic into being.
The trouble with this story comes when Ulla and Signy are chosen by one of the princes, Roffe, to accompany him onto land for three months. During those three months, all of the princes are tasked with trying to win the kingdom by bringing the current king a gift from the mortal world. Roffe knows that his best chance at winning the title is with the help of Ulla and Signy. Though Ulla knows this, Signy's feelings for Roffe cloud her judgment. When Ulla realizes that bringing the current king fire would undoubtedly let Roffe win, she tries to find the right spell for it, but the cost is greater than what she thinks possible. Roffe does not agree and forces her to do it.
This short story seems like it may be Bardugo's prequel to "The Little Mermaid" stories, but in it, we learn about Ursula. This idea is mentioned in the author's note at the end of the book and the sadness and terror of this specific story are more than enough to drive someone good to become someone evil. "When Water Sang Fire" covers themes of love, friendship, ambition, and sacrifice. The main theme of love and friendship is borne between Ulla and Signy but is threatened by Signy's feelings for Roffe. The theme of ambition is shown to be a dangerous one as Roffe is willing to hurt others for his own gain. And the overwhelming feeling of sacrifice echoes hollowly after Ulla gives everything for Roffe and Signy but receives nothing in return. Though this is the longest and most in-depth story of the collection, I don't think it's my favorite, but I do think it'll be the one that haunts me. Its message is powerful and melancholy as it cries out that trust is not always deserved and is often morphed by betrayal.
Other Stories: