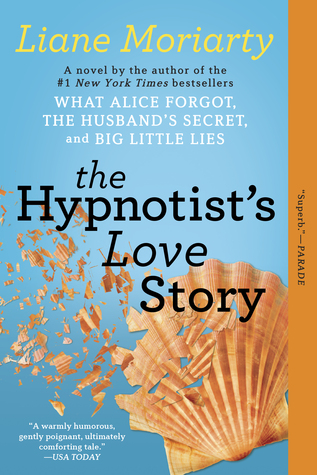 Ellen O'Farrell is a professional hypnotherapist who works out of the eccentric beachfront home she inherited from her grandparents. It's a nice life, except for her tumultuous relationship history. She's stoic about it, but at this point, Ellen wouldn't mind a lasting one. When she meets Patrick, she's optimistic. He's attractive, single, employed, and best of all, he seems to like her back. Then comes that dreaded moment: He thinks they should have a talk.
Braced for the worst, Ellen is pleasantly surprised. It turns out that Patrick's ex-girlfriend is stalking him. Ellen thinks, Actually, that's kind of interesting. She's dating someone worth stalking. She's intrigued by the woman's motives. In fact, she'd even love to meet her.
Ellen doesn't know it, but she already has.
The Hypnotist's Love Story by Liane Moriarty takes the idea of a romance and twists it with complication. From two points of view, Moriarty gives readers opposing views of a budding romance. Though it isn't what readers normally expect as the two points of view are the current girlfriend and the ex-girlfriend, who can't seem to move on.
Ellen is the current girlfriend of Patrick, a widower with an eight-year-old son. Ellen's personality blends the ideas of new age and classic. She's incredibly understanding, supportive, and tries to maintain a positive outlook on life. Readers will connect with her as she begins a new relationship, becomes intrigued by her boyfriend's stalker, and takes part in a complicated love story.
Patrick is a father who lost his wife just months after their son was born. As it happened so suddenly, Patrick struggles to navigate the re-creation of his life. Though he doesn't get his own point of view, Ellen shares specific aspects about Patrick that will cast him in a certain light for readers. This means that for most of the novel, readers feel nervous (right beside Ellen) as it seems that no woman will ever compare to his first love. However, if this book does anything, it presents the complexities of relationships and when Patrick gets a chance to speak for himself, readers will form a new opinion of his character.
Saskia is Patrick's ex-girlfriend and current stalker. What makes Saskia an interesting character is the fact that Moriarty makes it incredibly easy to understand why she acts the way she does. I always find it so interesting when I can connect, or at least understand, the 'villain' of a novel. And though Saskia doesn't seem evil, she does terrorize Patrick, making life hard for him to enjoy. Still, readers will feel a sense of understanding when it comes to Saskia, feeling sorry for her while simultaneously hoping that she can find a way to bring happiness back into her life.
The plot of this novel follows the relationship of Patrick and Ellen, while Saskia interferes and inserts herself into their love story. Though there are a few side stories with supporting characters, that is the main storyline. I think readers who enjoy a surprising romance, or an unconventional plot will enjoy this novel. It's surprising, it's honest, and it has a happy ending. I would definitely recommend this book to readers who enjoy that sort of combination.
Rating: 3.5/5 Cups